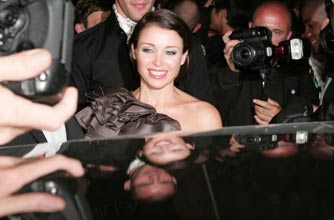 Dannii Minogue wants Simon Cowell to update his wardrobe.
The music mogul, 49, is famed for turning up to
The X Factor
auditions in a simple top and jeans.
'We need a national campaign,' says Dannii, 37. 'He's letting the side down.
'We need to ditch the boring trousers and T-shirts.'
Dannii is urging Simon to follow the lead of his fellow judges.
'It's so much fun dressing up,' she tells The Sun. 'It's an important part of the show – the contestants come along expecting a special day.
'Cheryl Cole and I both love to dress up and even Louis Walsh has made more of an effort this year.'
Continued below...
Where to next?
-
More X Factor gossip
-
Which X Factor judge are you?
-
X Factor gallery