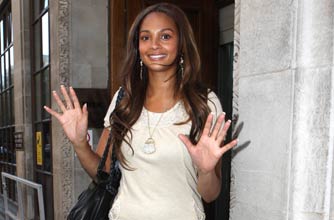 Alesha Dixon is a big fan of Cheryl Cole's and the two singers get on well.
The X Factor
and
Strictly Come Dancing
are battling it out for Saturday night TV viewers but the two glamorous judges aren't the arch rivals the tabloids would like to believe.
'No one has a bad word to say about her. She carries herself with such class,' says Alesha.
'We're friends. If I wanted to ring her up tomorrow to see how she was, 
I could, or if I wanted to send her a message to say that I loved her video, I could.
'When you're a professional and you're mature, you don't get caught up in all the pettiness.
'Those things don't get me down. It doesn't affect how Cheryl and I feel about each other - we've got 
a lot of respect for each other.'
Alesha, 30, is standing firm in her role as the new judge on Strictly.
'If you don't believe in yourself, no one's ever going to believe in you,' she declares. 'I've never been over-confident, but I don't sit there and think: "Oh my God, I'm not good enough to 
do this." I know that I can do it.'
Continued below...
Where to next?
-
Strictly backstage gossip!
-
Who's out of Strictly?
-
X Factor contestants