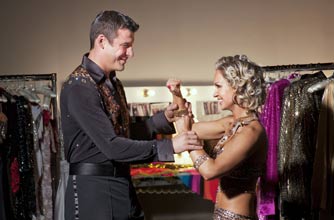 Champion boxer Joe Calzaghe was the 5th celebrity to be voted off Strictly Come Dancing last night. After the viewers' vote, he and partner Kristina Rihanoff found themselves in the bottom two with Zoe Lucker and James Jordan. Both couples performed their Jives again but Joe and Kristina's effort wasn't good enough to win over the judges.
Now they're out of the contest, will the couple - who have become an item off the dance floor - have a future? Are they really suited once the sequins come off? Kristina, 32, split with LA-based ballroom dancer Corky Ballas in December. While the blonde bombshell accused him of cheating on her, he told police Kristina had trashed his house in a jealous rage. Not long after that, she began an affair with Strictly's Vincent Simone, whose girlfriend was pregnant at the time. That too ended in a storm of recrimination.
'Kristina's a flirtatious and sexy woman and there's a genuine spark with Joe.She's also very complicated,' our exclusive source tells Now's Beth McLoughlin.
Joe, 37, recently split with his partner Jo-Emma Lavin, 28, blaming the end of their five-year relationship on his stepping down from the boxing ring.
'Joe was with Jo for five years and they only split in August,' say Now magazine's insider. 'He has been telling the other boys on Strictly he's not ready for another serious relationship just yet.'
Continued below...
Where to next?
-
Strictly news
-
More celebrity gossip
-
Check your horoscopes