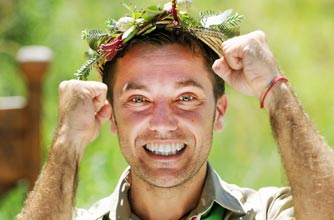 While Gino D'Acampo may have won I'm A Celebrity 2009, the celeb chef is now in a spot of bother over his rat risotto!
RSPCA investigators quizzed Gino - and camp buddy Stuart Manning - about the death of the rodent which was beheaded with a kitchen knife to make dinner.
'The killing of a rat for a performance is not acceptable. The concern is this was done purely for the cameras,' Chief Inspector David Oshannessy, from the RSPCA in New South Wales, tells the BBC.
'Police from Murwillumbah yesterday issued field court attendance notices to two men aged 30 and 33 for the offence of animal cruelty,' a spokesman confirmed.
'They are due to attend court at Murwillumbah local court on 3 February 2010.'
An ITV spokesperson said: 'The Australian RSPCA are currently investigating an incident that a rat was killed in the camp.'
Continued below...
Where to next?
-
Gino's non-rat recipes!
-
X Factor finals
-
Latest celeb snaps