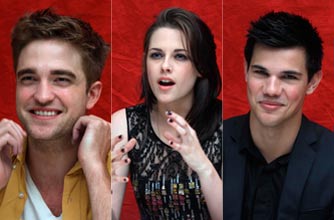 The final Twilight installment Breaking Dawn will be released as two separate films, confirms Summit Entertainment.
Part one of Breaking Dawn will hit cinemas on 18 November 2011, a year and a half after The Twilight Saga: Eclipse, due out in the UK on 9 July.
Star of the franchise Robert Pattinson has spoken out about the raunchy love scenes in Breaking Dawn
'We'll end up with a R-rated movie,' says Rob, 24.
'Can you imagine if we decided to go in and turn Twilight into a hardcore saga for adults with sex scenes and everything?'
Continued below...
- Brush up on your
Twilight Trivia
-
R-Patz's best ever pics
-
See the video: Rob and Kristen kiss
-
Watch the Eclipse trailer
-
Parents name babies after Twilight characters