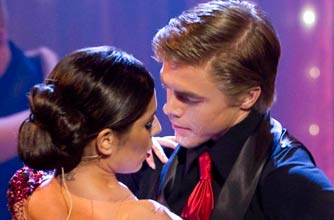 Cheryl Cole has jetted off on holiday with pal Derek Hough.
The X Factor judge and the Dancing With The Stars hunk were snapped getting a flight at Heathrow Airport on Tuesday evening.
Cheryl, 26, and Derek - who walked apart - are thought to have gone to Tanzania.
The 25-year-old dancer's stepfather Aaron Nelson, 54, hopes they'll hook up on the trip.
'They are going somewhere very exotic, very picturesque and it will be a nice break for them,' he tells the Daily Mirror.
'It will be one of those dream romantic holidays that you take when you are just starting out on a relationship.
'Derek is totally in love with the girl and wants to spend as much time as he can with her.'
Continued below...
Cheryl Cole: from Popstars to pop princess