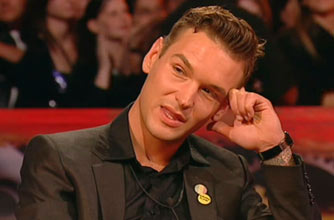 Ultimate Big Brother contestant Preston dreams of life with a steady job, a 'lovely wife', some children and a car.
His idea of bliss would be sitting watching films with his beloved - whoever that turns out to be.
'Along with every human being in England, I've fallen for Chantelle's charms and it's very difficult not to fall in love with her,' he admits.
But the former Ordinary Boys frontman, 28, is also still in love with American girlfriend Abby Rubin - who lives 4,000 miles away.
'We talked before I went into Big Brother and she kind of gave me an ultimatum,' Preston admits. 'Move to Brooklyn or it can't really work.'
Continued below...
So will he jump on a plane to New York or stay in the UK and hang out with Chantelle Houghton, 27? He really doesn't know himself...