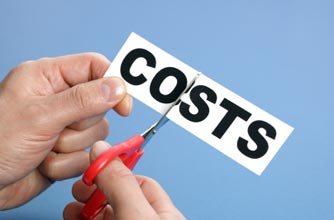 Most of us have been struggling with our money recently and unfortunately, things aren't likely to get easier just yet.
In fact, by 2013 the average family will have seen a drop in their living standards to the equivalent of a £4,600 pay cut, according to a study by the Trades Union Congress (TUC).
The TUC's report concluded that living standards recently have fallen more than at any time since the 1970s, due to things like public service cuts, pay rises that are below inflation and benefit changes - for example changes to tax credits and child benefits that have already been announced.
Unfortunately there's not a lot we can do about benefit changes, inflation or service cuts, but we can cut our living costs and make more money available for treats! In fact, you can sort out your finances in just 1 week and have more money available at the end - we've teamed up with our friends at
Lovemoney
to show you how.
What are your biggest outgoings every month? The chances are it's your mortgage payment or rent, followed by transport, food and utility bills. By cutting your everyday expenses you should find you have some spare cash to spend on treats or put into a rainy day fund.
Here's a step-by-step guide to slashing your daily expenses - all before this time next week!
Day 1: Reduce transport costs
Regular travel costs really mount up, whether it's because you're buying petrol for your car or a travelcard to get to work. One of the best ways to cut transport costs is - literally - to get on yer bike. Cheap bicycles are often available on community sites like Gumtree or Preloved. If you're really lucky, you might even be able to get one for nothing from a Freebie site like Freegle or SnaffleUp. And if you cycle instead of driving or taking public transport, there will be another benefit, too: You'll get fitter for free!

If you really can't do without a car, make sure you check the Petrol Prices website. This helps you find the cheapest fuel in your local area, emailing you a list of the five cheapest petrol stations near you.

Day 2: Switch suppliers


If you've been with the same gas or electricity provider for more than a couple of years, there's a good chance you're paying over the odds. Use this energy comparison tool to see if you can save by switching suppliers. It shouldn't take more than a few minutes - and many people find they save hundreds of pounds a year.