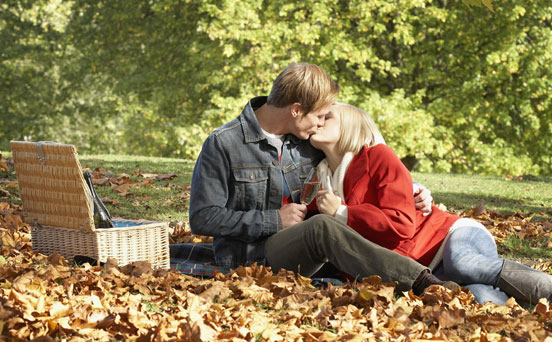 Continued below...
Now you've started to tackle your money problems, it's time to start enjoying your relationship again.
Because we don't want your relationship feeling the crunch, we've come up with some great purse-friendly dates. While money can buy you gifts and romantic getaways sometimes the best dates are those that don't cost a fortune - there's less worry about which one of you pays the bill and less pressure on everything to be perfect allowing you both to relax and enjoy yourselves.
So if you're cutting back on what you spend but don't want to sacrifice the romance, here are some recession-proof alternatives:
1.Turn your home into a restaurant for the night
Instead of forking out for a fancy restaurant, show off your culinary skills at home? To make sure it's not like every other standard evening meal, get dressed up, turn the lights down and put some romantic music on. Just because you're at home doesn't mean you can't have fun. You could even use foods with aphrodisiac qualities to boost the mood.
Many supermarkets including Marks and Spencer and Waitrose do a meal for two for £10 including a bottle of wine - these are perfect for keeping the price down but the romance high.
2. Watch a dress rehearsal
If you're a fan of the theatre or musicals but don't like the hit it takes on your wallet, why not call around to see if you can get tickets for the dress rehearsal instead? You'll pay a fraction of the price for the same experience.
3. See a local unsigned band
Concert tickets for big stars can cost a fortune but if you want to go out and watch some live music, why not check out some of the unsigned bands in your area. Most artists still have MySpace pages where you can listen to a sample of their songs and find out where they'll be playing.
4. Take advantage of free trials
Most gyms and fitness centres have offers for a free one-day trial so if you fancy a nice jacuzzi, steam or a sauna then find your local gym or spa centre and see if you and your partner can go along for a free day.
5. Sign up to be in a TV audience
Ever wanted to watch Million Pound Drop live or be in the audience for The Graham Norton show? Well the tickets are free, all you have to do is sign up and wait to see if you're picked. Most shows tend to be filmed in London but you may find some nearer where you live. Use the opportunity to get dressed-up and have some fun while you're out of the house.
6. Have a picnic
This is a classic romantic date idea that will allow you both to spend some quality time together. Pack a soft blanket, some nice treats to eat and even a bottle of wine if you're going somewhere within walking distance.
7. Visit an art gallery or museum
Art galleries and museums are great for romantic dates and most of them have no entry fees.
8. Star gazing
This is a lovely nighttime date idea where you both can sit out under the sky and see if you can spot any shooting stars. The best places are just out of town away from the light pollution where you'll get a better view. Take some warm clothes and a flask of hot chocolate and enjoy some quality time alone.
9. Host a games night
Sometimes the best dates are group dates, so why not invite some friends round tell them to each bring a boardgame, a bottle and some bites to eat and have a night of fun without the price.
10. Look out for local events
Many local towns and villages host a huge variety of events such as fetes, fayres and street parties that you can look around. You don't have to buy anything there but most will be selling relatively cheap home goods and locally sourced foods.
Whatever you end up doing, the most important part is that you're enjoying just being together, whether you're walking the dog, watching your kids' sports day or cooking the Sunday lunch, spending that quality time together without worrying about money is the key to a happy and successful relationship.
Where to next?
- Visit our new money site for daily vouchers and new cashback deals
- Read the secrets of a good marriage
- 40 tips tp put the spark back into your relationship