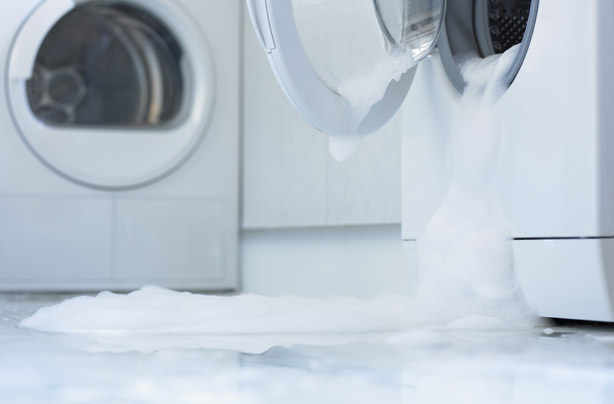 How to fix a washing machine
Washing machine problems can be a nightmare as it's an appliance you can't do without. Before you call the plumber, you might be able to troubleshoot yourself. Some of these initial solutions might sound obvious, but always good to eliminate them. Make sure other items are working as it could be a power cut. Also check it's plugged in and that the door is securely closed. If you've had any plumbing work done recently, check the water inlet isolation taps (usually under the sink) are open and that there are no kinks in any hoses. You should also keep your manual to hand as many common problems and solutions are highlighted in there.

If the washing machine is filled with water, you can drain the water, but be prepared for a little mess. Turn the washing machine off and find the outlet pipe - this is the one which usually links up with the sink's waste water system. Pull the drain hose out and put it into a bowl so the water can come out. If the bowl is filling up, hold up the hose above the washing machine's water level so you have time to empty the bowl. Remember though, if you've taken out the drain hose from a connection under the sink, don't pour the excess water back into the sink as you will flood your floor! Put it into another bowl and get someone to empty that in the bathroom and bring it back empty.

Another problem is the door not opening. It could be the load hasn't completely finished - time-delay systems vary but make sure you've waited or heard the click. Some doors won't open if there is any water left inside in which case you will need to do the process above - this can happen before or after you've put a load in. Check the programme selection knob is in a stop position too as it may not open if it think it's mid-programme. If it still won't open, you may need to call out a plumber.

If you've opened the washing machine door and it's flooded your kitchen, the first thing you need to do is turn it off completely. If that doesn't stop the water flow, turn off the inlet taps or isolation valves - these vary in terms of where they are so check your manual. Don't use the 'drain' programme setting if the machine is leaking or flooding though. You may need to call a plumber to find out why it flooded and have it fixed.

Tip: familiarising yourself with your washing machine is one way to avoid potential problems. Also, keep your filter clean. The outlet filter is usually at the front of the machine behind a removable panel. You can empty it when the machine is off and clean it out to prevent blockages.

If your washing machine smells of damp, run a short wash cycle on your washing machine on a hot water setting and add 2 small cups white vinegar into the powder drawer - it has a deodorising and disinfecting properties. Always wipe the seal around the washing machine door after each wash to avoid damp building up inside the drum.