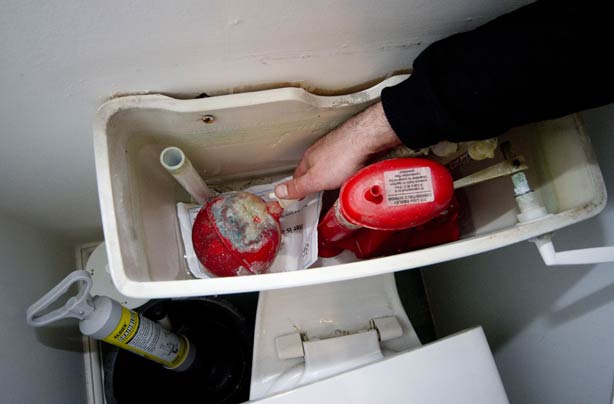 How to fix an overflowing cistern
If your cistern is overflowing, it's usually because the inlet valve inside the cistern isn't in the right place - it's either letting in either too much or too little water. As long as your cistern is easy to access and not hidden, you should be able to fix it - all you need is a screwdriver.
There are three ways of changing the water level, depending on what controls the water level in your particular cistern. When you open the cistern cover, it should make sense which valve you have from the descriptions below.
If you have a torbeck valve - a valve with a little float dangling - it's very easy. To raise the water level, slightly turn the float clockwise. To lower the water level, turn the float anti-clockwise. If your cistern has a modern plastic float arm, the water level is controlled by the plastic screw and nut - you can see it next to the inlet valve on the float arm. Here, you do the opposite - turn it anti-clockwise to raise the water level and clockwise to lower it. The third type is a traditional metal float arm where there is a metal or plastic ball on the end of a metal arm. Bend the arm up to increase the water level and down to lower it.
Where to next?
Back to the start
Things you can make at home instead of buying
Spruce up your kitchen on a budget