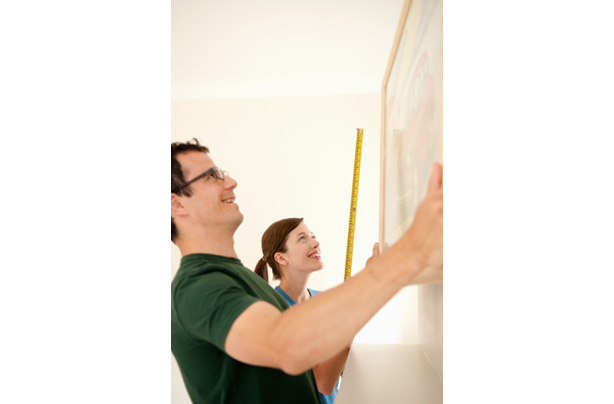 How to hang a picture frame
It's not that hard to hang up a frame - take your time and it's easy to do. An extra person is useful, if not essential, to make sure it's straight though. For smaller paintings and unframed ones, you just need a picture hook and a small nail (around 3cm). With a pencil, mark the spot where you want to hang the hook - ask someone to hold the painting so you can stand back and check its position. Before you hammer it into the wall, angle the nail upwards just slightly then knock it into the wall until about 1cm is still sticking out. Make sure you're not hammering into the wall near light switches or electrical points.

If you want to hang a larger picture, especially if framed with glass, then a simple picture hook may not be enough. If the painting has a string along the back, you can use two picture hooks, as above, and hang it up in the same way, using a spirit level to make sure it's straight.

Remember, if the wall is a plasterboard stud wall, you will need something called a toggle bolt which is designed for thin/hollow walls. A stud detector is also useful - it helps to detect wood studs so you can secure the hooks to something stable, otherwise the painting could fall down.