Wanda MacIntosh's curried squash soup
Print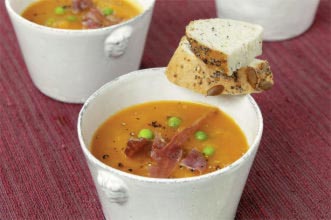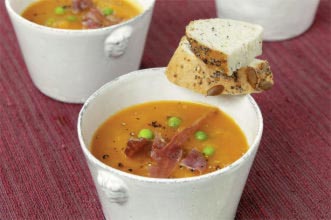 Try this spicy and filling soup sent in by Wanda Mackintosh - it's simple to make and perfect for those cold nights.
Ingredients
1 onion, chopped
Salt and pepper
Olive or vegetable oil
1 to 2tsp curry powder (depending how hot you want it)
3 to 6 cloves garlic (depending on your tastes), chopped
5cm (2in) fresh ginger, peeled and chopped
2 cups butternut squash, baked or steamed until tender then chopped
3 cups vegetable stock
1 tin coconut milk (optional, but very nice)
1 lime
Method
Put the chopped onion in a big pot, sprinkle with salt and sauté.
When the onion's browning, add the curry powder and cook for a further minute
Add the garlic, ginger and butternut squash. Add enough stock to cover.
Cook until the squash starts to break down (normally about 15 mins). Remove from the heat and let it cool.
Once cool, put the soup into a blender or food processor and whisk until smooth. Add the coconut milk (if using) and whisk this in too.
Taste and season as needed. Squeeze lime juice on top before serving.
Your rating