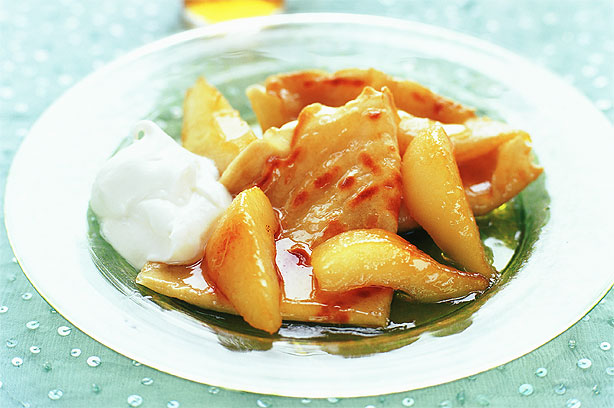 A delicious dessert that can be made in under 10 mins
Serves:
4
Takes:
15 mins
Cals per serving:
540
Fat per serving:
29g
50g (2oz)butter
25g (1oz) light muscovado sugar
3tbsp (45ml) brandy
411g (16.4oz) can drained pear quarters
8 ready-made crêpes
1tbsp (15ml) caster sugar
2tbsp (30ml) brandy
Greek yogurt, to serve
1. In a pan, heat 50g butter, 25g light muscovado sugar and 3tbsp brandy.
2. Stir in 411g can drained pear quarters and cook for 5 mins.
3. Add eight ready-made crêpes, folded into quarters. Sprinkle with 1tbsp caster sugar and pour over 2tbsp brandy.
4. Ignite and let the flames die down. Serve with Greek yogurt.