The perfect pavlova
Print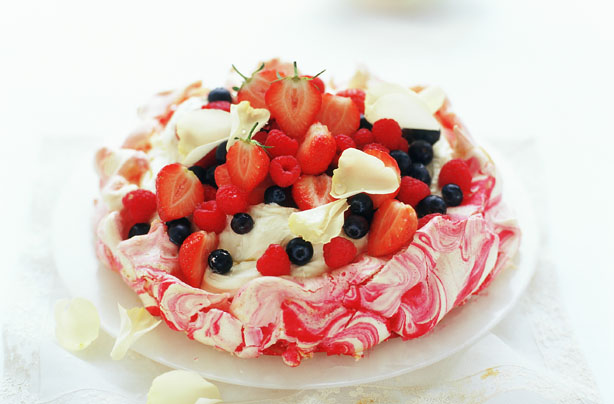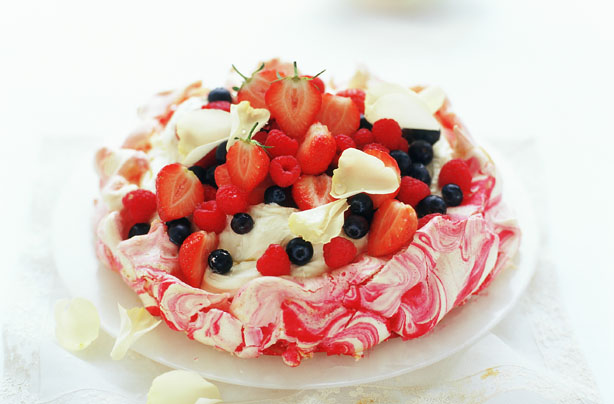 Makes: 1

Prep time:

Cooking time:

Total time:

Skill level: Bit of effort

Costs: Mid-price
This pavlova recipe is just what you need if you're having guests over. If you really want to impress with a homemade dessert, whipping up this irresistible treat is great idea and we can show you show you how to make the perfect pavlova. Not only will you get a delicious dessert to share with your friends or family with this easy pavlova recipe, you'll also leave them in awe of your culinary abilities. With a crispy crust but a soft and light inside that melts in your mouth, this classic meringue pavlova is a little tricky to master but it produces amazing results. This basic pavlova recipe takes 1h and 40mins to make in total, but it will be well worth the wait. Homemade meringue needs a lot of care and attention (take a look at our essential tips below on how to make pavlova) but once you've made them once, you'll get the hang of it! Berries and cream are the ultimate filling and if you're feeling fancy you can even swirl a little food colouring into the mix to give it a colourful finish.
Ingredients
For the meringue:
5 egg whites
Pinch of salt
225g caster sugar
1tsp cornflour
1tsp white wine vinegar
1/2tsp red food colouring (optional)
For the filling:
290ml pot double cream
2tbsp icing sugar
1tbsp rosewater
450g summer berries
Rose petals to decorate (optional)
It's really important that the bowl you use to make the meringue is thoroughly cleaned as any grease can affect the outcome of the pavlova
Method
To make your pavlova, preheat the oven to 140°C/275°F/Gas Mark 1. Draw a 23cm circle on a large sheet of baking parchment and place, pencil side down, on a baking sheet (if you lay it pencil side up, the line will come off on the meringue). Put the egg whites in a large, roomy bowl, add the salt and whisk until stiff. Add a couple of tablespoons of the sugar and whisk thoroughly. Add another couple of tablespoons of sugar and whisk again. Continue until all the sugar has been used and the mixture is stiff and glossy. Whisk in the cornflour and white wine vinegar.
Stir in the food colouring, lightly swirling until the mixture is marbled with colour. Spoon the meringue on to the parchment and spread out to fill the circle. Build up the sides into peaks to hold the filling.
Bake for 1 hr until a pale biscuit colour. Remove from the baking parchment and transfer to a wire rack. Leave to cool completely.
Assemble the pavlova. Whisk the cream until lightly thickened. Add the icing sugar and rosewater, and continue to whisk until thickened. Just before serving, spoon the cream mixture into the meringue case and pile the berries on top. Scatter over the rose petals.
How to make the perfect pavlova:


* Use baking parchment, as it is easier to remove from the cooked meringue than greaseproof.
* Use eggs at room temperature as they will whisk more easily. Older eggs will whisk up to a larger volume than fresh eggs.
* The cornflour and white wine vinegar help to stabilise the meringue and stop it from collapsing, so do not be tempted to leave it out!
* Plastic bowls are a definite no-no, as they really do hold on to grease.
* When separating eggs, crack each white into a cup before pouring into the bowl just in case you break the yolk. Egg yolk is basically full of fat and will stop your whites from whipping up.
Your rating