Chicken with cheesy tomatoes
Print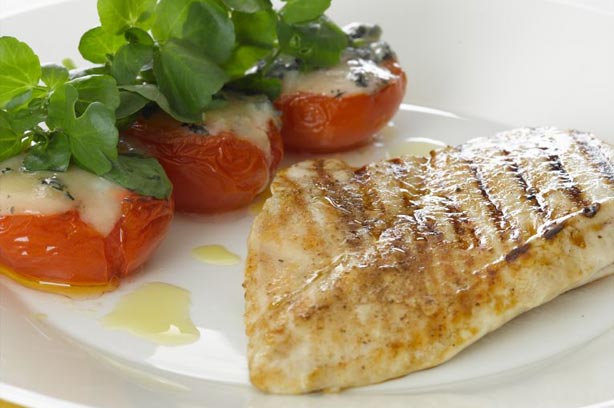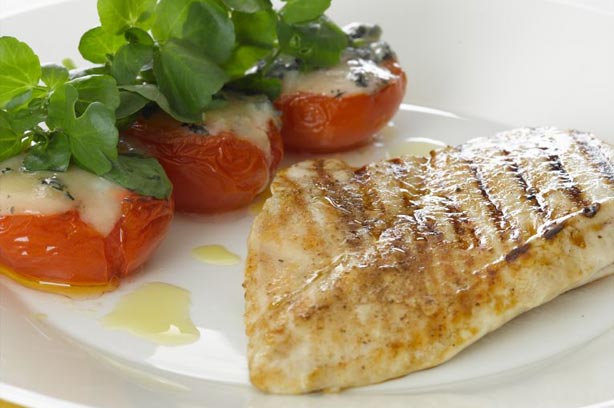 Serves: 4

Cooking time:

Skill level: Easy peasy

Costs: Mid-price
Chicken escalopes, juicy tomatoes and rich blue cheese all combine to make a dish that's bursting with colour and taste.
Ingredients
4 chicken breasts, skinned and lightly batted out
15g (½oz) buttery spread
Large handful of watercress, picked and lightly rinsed
Pinch of sea salt
Twist of black pepper
1tbsp olive oil for drizzling
6 plum tomatoes, halved lengthways
80g (3¼ oz) Gorgonzola cheese, crumbled
If you're not a blue cheese fan, then Brie, Parmesan, Gruyere, Gouda and many more cheeses will melt just as well and taste equally good.
Method
Brush the chicken breast liberally with buttery spread. Season lightly with salt and pepper and char grill on a hot griddle or in a frying pan for 3-4 mins on each side until cooked.
Meanwhile, place the tomato halves, cut side up on an oiled and seasoned baking tray. Season each with a sprinkling of salt flakes and twist of black pepper. Brush with a little buttery spread and place under a pre-heated grill. Cook for 5-6 mins until beginning to soften.
Sprinkle the crumbled Gorgonzola over the tomatoes and return beneath the grill. As the cheese warms it will begin to melt and bubble over the tomatoes.
Place the grilled chicken breasts in the centre of the plate and carefully arrange the grilled, softened gorgonzola tomato halves either on the plate or onto the chicken.
Scatter the picked watercress salad across the top and drizzle with olive oil.
Your rating