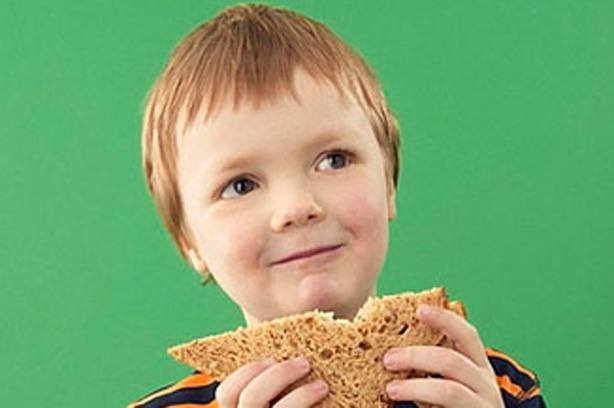 Straightforward sarnies
Sandwiches can soon become boring. Try these ideas to keep things fresh as well as squeezing in healthy ingredients as part of your child's recommended 5-a-day portions of fruit and vegetables.
Keep a selection of breads in the freezer, like pitta, wholegrain rolls, baguettes and bagels.
Always try to add a little salad (remembering to dry it with kitchen paper first to stop the sandwich going soggy).
Use less butter or margarine and avoid mayonnaise, or use a low-fat version.
Pick low-fat sandwich fillings like lean meat, tuna, salmon, cottage cheese, edam. Mozzarella or sliced banana.
Simple salads
When the weather warms up, salads are a great change from sandwiches and they are packed with essential vitamins and minerals.
Eat a rainbow of colours by using a selection of salad vegetables including radish, grated carrot, red, yellow and green peppers. It's a great way of making sure your child is eating a range of vitamins and minerals.
Pop in some low-fat protein for example chicken, Edam or lean ham. For a change, give a bean salad a go with a mix of kidney beans, haricot beans and chickpeas, perhaps with an olive oil and lemon dressing.
A bag of vegetables makes a great snack. Try cherry tomatoes, sugar snap peas, sticks of carrot or chunks of pepper.