Jolene Kahn's chocolate fudge cake
Print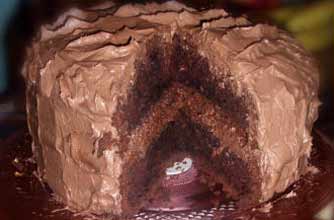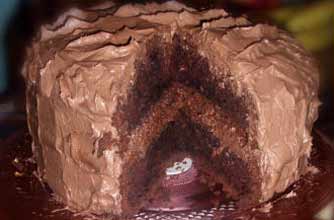 Serves: 15

Skill level: Bit of effort
'I made this chocolate cake for my friend and she couldn't believe that I'd made such an amazingly rich cake. It's actually Nigella Lawson's Chocolate Fudge Cake recipe (I didn't tell her this of course) but it's just so easy. I made the icing in literally minutes and the cake couldn't be simpler - just mix everything up with an electric mixer! Don't be put off by the oil and sour cream it's what makes the cake moist and not too sweet tasting.'
Ingredients
For the cake:
400g plain flour
250g golden caster sugar
100g light muscovado sugar
50g best quality cocoa powder (I used Green and Black's)
2tsp baking powder
1 tsp bicarbonate of soda
1/2 tsp salt
3 eggs
142ml or small tub of sour cream
1tbsp vanilla extract
175g unsalted butter, melted
125ml corn oil
300ml chilled water
For the fudge icing:
175g dark chocolate, minimum 70% cocoa solids (Green and Blacks again)
250g unsalted butter, softened
275g icing sugar, sifted
1tbsp vanilla extract
Method
Preheat the oven to 180ºC/350ºF or gas mark 4.
Butter and line the bottom of both of the cake tins.
In a large bowl mix together the flour, sugars, cocoa, baking powder, bicarb and salt.
In another bowl whisk the eggs, sour cream and vanilla. I used a hand held whisk until the mixture started to thicken.
Put the melted butter and corn oil into a large bowl and use an electric mixer to mix together. Add in the water, then all of the dry flour mixture - mix this all on a slow speed then add in the egg mixture until everything is smooth and creamy.
Pour half of the mixture into one cake tin and the rest into the other and bake for 50 mins. Check at about 45mins to make sure that you haven't overcooked it. I find that if the cakes are springy in the centre and slightly shrunk away from the edges of the cake tins - then they're done.
Cool the cakes on a wire rack.
To make the icing melt the chocolate in the microwave on low for 2 - 3 mins stirring halfway though. Make sure that the chocolate doesn't burn though.
Whilst the chocolate is cooling, put your softened butter into a bowl, sift over the icing and mix together until light and creamy. Add in the vanilla and melted chocolate until you get a glossy icing.
Sandwich the two cakes together with some of the icing, and then ice the top and sides with a rubber spatula.
Lick up any leftover icing!
Cut into 15 equal slices if you're feeling generous.
Your rating