Plum pudding
Print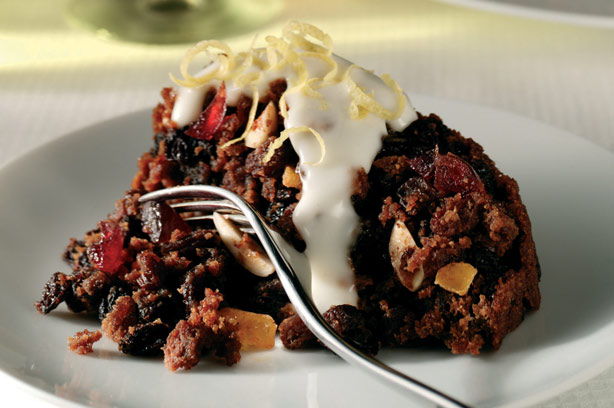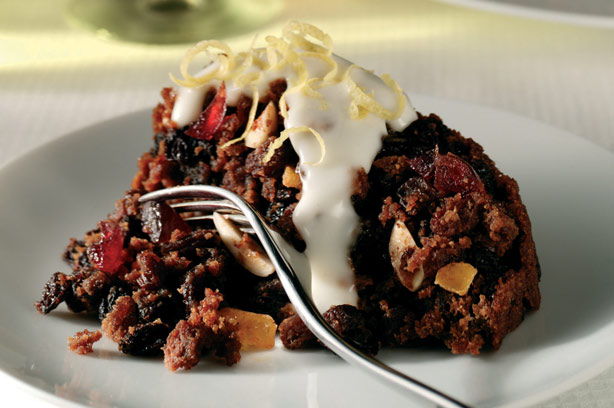 Serves: 8 -10

Prep time:

Cooking time:

(reheat for 1-2 hours)

Total time:

Skill level: Bit of effort

Costs: Mid-price
It's not Christmas without a plum pudding to finish off Christmas lunch with! With blue flames licking round it, a plum pudding is the centrepiece to every Christmas table. If you're looking for a rich plum pudding recipe to make the whole family happy, we've got a treat for the perfect end to your Christmas Day. A traditional plum pudding is full of dried fruit, a splash of brandy and loads of festive spices. If you want a mouthful of Christmas, this is where you can get it! Try this recipe for a really special plum pudding to serve to friends and family on Christmas Day for a real treat - you'll soon make it your new go-to recipe.
Ingredients
100g self raising flour
50g fresh white breadcrumbs
50g ground almonds
275g soft dark brown sugar
75g suet
225g each, raisins, currants and sultanas
50g glacé cherries, chopped
50g flaked almonds
1tsp ground cinnamon
½tsp ground nutmeg
½tsp ground coriander
½tsp ground Allspice
½tsp salt
3 medium eggs
45ml (3tbs) Brandy
150ml (1/4pt) brown ale
You can store this pudding for up to a year! Why not make two so you have one for next Christmas!
Method
To make this steamed pudding, grease the pudding basin.
Mix together all of the dry ingredients in a large bowl. In a separate bowl, beat the eggs with the brandy and brown ale.
Combine the fruit mixture with the egg mixture and stir well. Spoon into the prepared basin and cover loosely with a pleated sheet of greaseproof paper.
Secure well with string and top with a second piece of paper. Place in a steamer and pour in enough boiling water to come half way up the sides of the basin.
Steam for 3 - 3 hrs 30 mins, topping up with more boiling water when necessary. Cool and wrap in foil and store in a cool dry place. Re-steam the pudding for 1-2 hrs before serving
Your rating