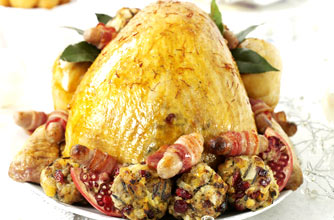 With just three days to go, it's time to tie up the loose ends and prepare a few dishes to help the big day go smoothly.


3 days before
Most turkeys take at least 36 hours to defrost, so check yours today if you haven't already!
Time-saver: A simple soup makes a stress-free Christmas starter and you can freeze it too. Try this easy leek and potato soup - make the garnish on the day.
2 days before (23 December)Christmas Eve
Defrost the stuffing or make the stuffing and chill in the fridge



Stuff the turkey then prepare and chill the turkey



Blanch the root vegetables; par-cook and chill the peeled/cut potatoes (you can even half-roast the parsnips and spuds)





Thaw any frozen food you made ahead e.g. bread sauce, stock, soup etc.



Chop the herbs e.g. parsley, place in clingfilm and put in the fridge