Duck and asparagus with soy dressing
Print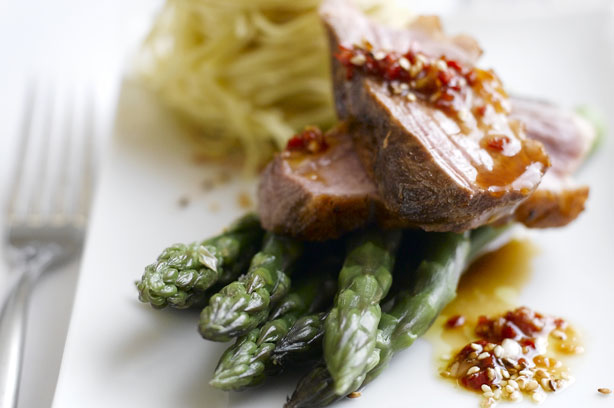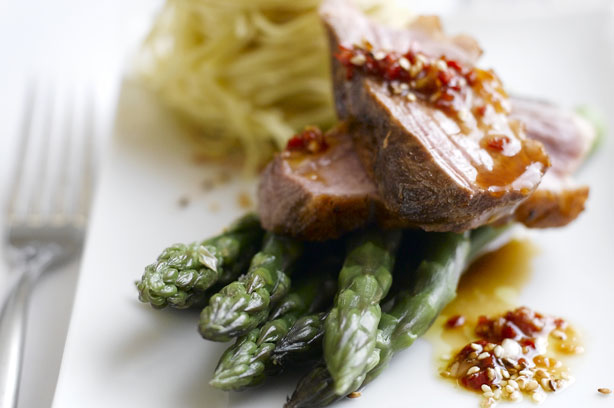 Serves: 4

Prep time:

Cooking time:
This tasty recipe combines great British flavours with the Orient for an original and delicious meal
Ingredients
4 duck breasts2 bundles of asparagus, trimmed
Cooked noodles, to serve
Dressing
2tbsp toasted sesame seeds
5tbsp soy sauce
1 red chilli, deseeded and finely chopped
1 clove garlic, peeled and finely chopped
4tbsp olive oil
2tbsp Japanese cooking wine
2cm ginger, peeled and grated
2tbsp sweet chilli sauce
Juice from one lemon
Method
Score the skin on the duck breasts in a criss-cross, making sure that you don't go through to the flesh.
Place the duck, skin side down in a cold frying pan, place on a medium heat and cook slowly for approximately 5 mins or until the skin is crisp and golden brown.
Turn the duck and cook for a further 3-4 mins.
Remove from the pan and allow to rest for 2 mins.
Meanwhile, bring a sauce pan of salted water to the boil, add the trimmed asparagus and cook for 4-5 minutes. Drain and keep warm.
For the dressing, whisk all of the ingredients together.
To serve, divide the asparagus between four plates, slice each duck breast into three and place on top of the asparagus. Place the cooked noodles to the side of the duck and spoon over the dressing to finish.
Your rating