Sausages with warm apple salad
Print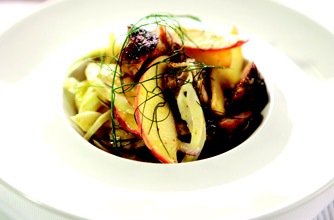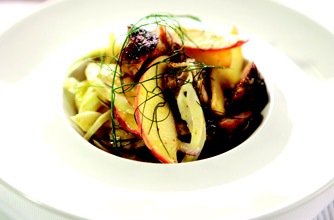 Serves: 4

Costs: Cheap as chips
This dish looks impressive but it's so easy to make - and it's a good recipe to make sausages more interesting and use up apples that are on the turn
Ingredients
1tbsp white wine vinegar
A squeeze of lemon juice
1 large tbsp runny honey
1tsp English mustard powder
1tbsp grain mustard
1tbsp Dijon mustard
A pinch of salt and pepper
100ml water
200ml rapeseed or vegetable oil
For the salad:
1 bulb of fennel
1/2 red onion (finely sliced)
1 large eating apple
Juice of 1/2 lemon
Salt and pepper
Method
Pan fry or grill sausages.
Whisk the first 6 dressing ingredients together and season. Then whisk in the water and then gradually add oil, to keep the dressing runny.
Cut the fennel into quarters, removing the leafy tops and set aside.
Slice fennel very thinly and mix with the sliced onion and lemon juice.
Sprinkle with 1/2tsp of salt.
Peel, core and slice the apple and toss with the fennel and onion.
Slice the sausage into thick chunks and toss with the salad ingredients.
Pour over the dressing and serve.
Your rating