Prawn and vegetable tempura
Print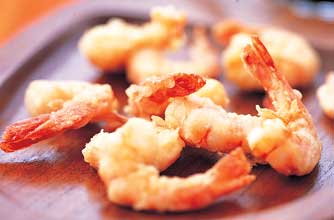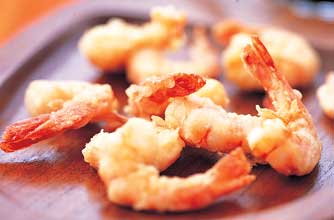 Serves: 6

Prep time:

Cooking time:
These light, crispy and more-ish Japanese-inspired appetisers are great as party nibbles or served as a starter.
Ingredients
1 egg yolk
200ml/7fl oz ice cold water
125g/4½oz plain flour, sifted
12 raw tiger prawns, shelled
450g/1lb mixed vegetables e.g. shitaake mushrooms, onions, aubergine, courgette, peppers, cut into bite-sized pieces
Oil for deep frying
Method
Beat the egg yolk and water together. Tip in the flour and roughly combine - the mixture should remain fairly lumpy as this gives it its lightness when fried.
Heat the oil in a large pan until hot enough for a piece of bread to brown in 30 secs.
Dip the prawns and vegetables into the batter and fry in batches until light golden in colour. Drain on kitchen paper and serve.
© Diabetes UK. This information has been reproduced from Balance with the kind permission of Diabetes UK, the charity for people with diabetes. For more information on diabetes, call 020 7424 1000 or visit www.diabetes.org.uk and find more recipes on the website.
Your rating