Kippers with potato and beetroot salad
Print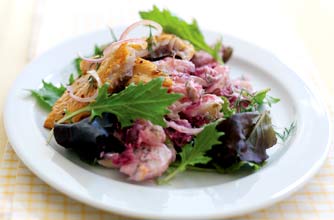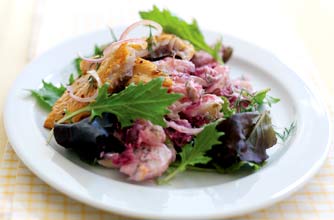 Serves: 1

Prep time:

Cooking time:
Serving kippers with potato and beetroot salad is the perfect way to turn a potato salad side dish into a whole meal. Kippers are often overlooked in favour of white-flesh fish but these salty favourites are delicious as a contrasting flavour to creamy potato salad and fresh beetroot. We love serving kippers grilled on the BBQ, with a potato salad as the perfect summer side. It's easy and quick to make this potato salad and won't leave your guests waiting around to be fed. Not to mention kippers and other oily fish contain high amounts of healthy cholesterol-reducing unsaturated fats.
Ingredients
For the kipper:
1 kipper, filleted
1tsp crushed coriander seeds
1 shallot, peeled and thinly sliced
1 bay leaf
1 lemon, grated zest and juice
4tbsp olive oil
1tsp wholegrain mustard
Salt and freshly ground black pepper
Mixed salad leaves to serve
For the potato salad:
4 - 5 new potatoes, scrubbed
2 spring onions, trimmed, washed and sliced
1tbsp chopped dill
2tbsp light mayonnaise
1tbsp shredded beetroot from a jar, drained
* Marinate the kipper 2 - 3 days in advance of eating for the flavour to develop. Make potato salad up to 24 hours before serving. * It may seem like a lot of olive oil in the recipe for just one serving, but there needs to be sufficient to cover the fish.
Method
For the kipper: Place the fillet in a dish and sprinkle with the coriander seeds. Add the shallot, bay leaf and lemon zest. Whisk together the lemon juice, olive oil and mustard and pour it over the fish. Season with black pepper.
Cover the dish and chill the kipper in the fridge for at least 2 - 3 days before eating it. Turn the fillets and shallots daily so that they are thoroughly coated in the dressing.
For the potato salad: Cook the potatoes in boiling water for about 15 - 18 mins or until they are just tender. Then drain them and rinse under cold running water to cool them quickly and then slice them.
Mix the sliced potato, spring onion and dill into the mayonnaise with the beetroot and season with salt and pepper. Cover the bowl and keep the potato salad chilled until serving. Remove the potato salad from the fridge at least 15 mins before serving so that it comes to room temperature. Scatter the salad leaves into a plate and spoon over the potato salad. Drain the fish fillet from the excess oil and serve it on top.
Try our classic potato salad recipe.

Nutritional information per portion
Calories 693(kcal)
Fat 51.0g
Saturates 7.6g
This nutritional information is only a guide and is based on 2,000 calories per day. For more information on eating a healthy diet, please visit the Food Standards Agency website.
Guideline Daily Amount for 2,000 calories per day are: 70g fat, 20g saturated fat, 90g sugar, 6g salt.
Your rating