Bulgur wheat and roasted vegetables
Print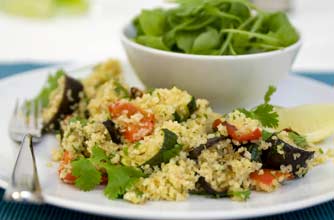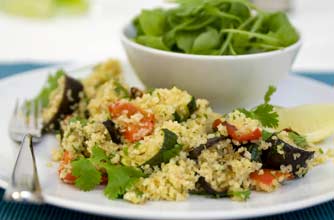 Serves: 2

Prep time:

Cooking time:
A deliciously healthy mix of wholegrain carbs, veggies, herbs and spices makes this a wonderfully light and energising main dish
Ingredients
1 small courgette, halved and sliced
2 small red peppers, deseeded and cubed
1 small aubergine, trimmed, quartered and sliced
2 tbsp olive oil
150g bulgur wheat
375ml cold vegetable stock
2 tbsp roughly chopped parsley
4 tbsp roughly chopped coriander
½ tsp ground roasted cumin seeds
1½ tsp ground ginger
½ tsp paprika
4 tbsp fresh orange juice
2 tbsp extra virgin olive oil
Finely grated zest and juice of a ½ lemon
If time is short, use couscous instead of bulgur wheat. Before you go and buy the ingredients, experiment with herbs and seeds that are already sitting in your cupboard.
Method
Preheat the oven to 200ºC (Gas Mark 6). Place the vegetables onto a baking sheet and drizzle with the olive oil. Season with salt and pepper to taste. Place into the oven and roast for 10 minutes or until just coloured and softened.
Meanwhile combine the bulgur wheat and vegetable stock in a saucepan and bring to the boil over a medium heat. Reduce the heat, cover and simmer for approximately 15 minutes or until al dente (firm to the bite) and the liquid has been absorbed.
Fluff up the bulgur wheat with a fork and stir in the herbs, spices, orange juice, extra virgin olive oil, grated lemon zest and juice, and finally the roasted vegetables. Season generously to taste. Serve with salad leaves and lemon wedges to squeeze over.
Top tip: If time is short, use couscous instead of bulgur wheat. Before you go and buy the ingredients, experiment with herbs and seeds that are already sitting in your cupboard. www.learndirect.co.uk/brainfood
Your rating