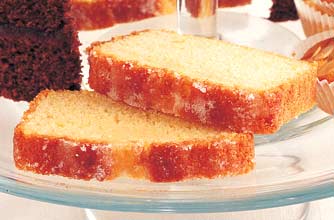 Finely grated zest of ½ lemon
Half the remaining
basic cake mix
(a quarter of the original)
For the lemon crunchy icing:
50g (2 oz) granulated sugar
Juice of ½ lemon
450g (1lb) loaf tin, greased and lined
1. Add the lemon zest to the basic cake mix, and turn into the prepared tin.
2. Bake in the preheated oven for about 35 minutes, or until golden brown, shrinking away from the sides of the tin and springy to the touch.
3. While the cake is still warm, make the topping. Mix together the sugar and lemon juice, and pour over the warm cake.
4. Leave to cool a little and loosen the sides of the cake, then lift the cake out of the tin.