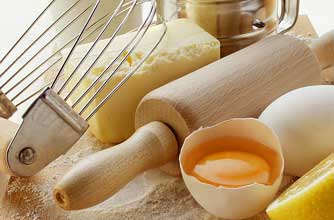 Ingredients to have in your kitchen cupboard:
Strong plain white flour, plain white flour, wholegrain flour, yeast, suet, cornflour, custard powder (can replace cornflour)
Caster sugar, soft brown sugar, icing sugar, unsalted butter, eggs
Salt, bicarbonate of soda, baking powder, cream of tartar, sunflower and olive oil
Cocoa powder, dark cooking chocolate,
golden syrup
, treacle, vanilla pods (extract or essence)
Dried fruit (currants, sultanas, cherries, mixed peel), spices (cinnamon, ground ginger, mixed spice, black pepper, nutmeg, cloves)
Help! I don't have the right ingredients!
Even when you're sure you've bought everything, you get home to find you left out a key ingredient or the shop just didn't have what you need. Here are a few sneaky cheats to get you out of a fix.
Flour:
If you don't have self-raising flour for your cake, then simply add 2½ tsp baking powder for every 8oz plain flour and it will rise perfectly.
Sugar:
If you've run out of caster sugar, it's OK to use granulated if you've got a cake that uses the rubbed-in method. But don't use granulated for creamed mixtures - they'll end up tasting a bit gritty and may not rise as well.
Eggs:
When a recipe says '2 eggs', it can be tricky deciding what size to choose. The rule of thumb is to go with large eggs, but if you only have small eggs, you can add a little milk or another egg to make up the liquid.