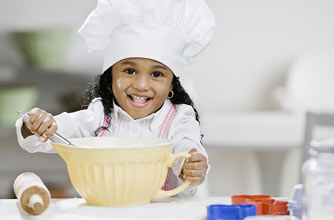 Don't make the mistake of thinking baking is only for girls - get your boys involved and dad too!

Baking's a great way to get your children involved in something that will teach them a new skill (we've all got to eat after all!). It will also develop their creative side, give them a sense of achievement and it's quality time together. And if they need another incentive, they get to lick the bowl afterwards!


The step-by-step recipes below have plenty of advice for cooking with kids of all ages.


Kids' baking recipes:
Fairy cakes
Smarties cookies
Peppermint creams
Fruit and nut crispies
Gingerbread men