Apple strudel
Print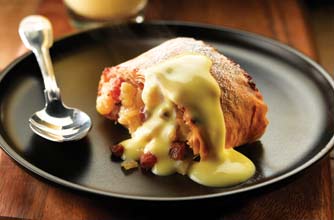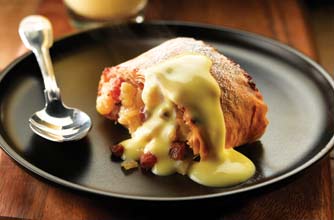 Serves: 4

Prep time:

Cooking time:

Total time:

Skill level: Bit of effort

Costs: Cheap as chips
This delicious mixture of apples, raisins and cinnamon wrapped up in filo pastry makes a great winter dinner party dessert.
Method
Preheat the oven to 190ºC (gas mark 5). Peel, core and chop the apples into small pieces.
Place the apples into a large microwavable mixing bowl along with the sugar and cook on a high heat for 3 mins in the microwave to soften the apples. Stir in the raisins, cinnamon and almonds and mix well.
Place a piece of greaseproof paper onto a baking tray large enough to fit the filo pastry then sprinkle with icing sugar.
Lay each piece of filo pastry onto the greaseproof buttering each layer as you do so. Spoon over the apple mixture leaving a 2cm cap around the edge.
Carefully fold the filo pastry up around the filling like a Swiss roll using the greaseproof paper to help. With a knife score the strudel into portions making sure to only cut half through the pastry. Brush with the remaining butter.
Place the strudel into the oven and cook for about 35 mins until lightly browned.
Remove the strudel from the oven, dust with a little more icing sugar and serve with custard.
Your rating