White wedding cookies
Print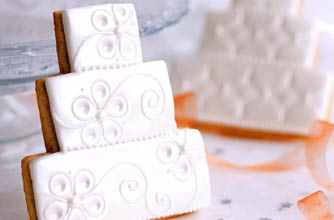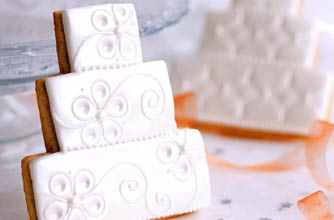 These elegant cookies are as beautiful as the bride - and make delightful favours for a wedding. They're easy to make and won't cost the earth.
Ingredients
Tiered wedding cake cookies
Sugarpaste: white/ivory
Tiered wedding cake cutter
Piping gel
Flower cutter: flat floral collection set
Ball tool
Reusable piping bag and coupler
Royal icing
Piping tubes no.1, 2and 3
Edible snowflake lustre dust
For a sparkling finish, add the lustre dust before the sugarpaste dries.
Method
Emboss the tiers with the flower cutter and use the end of a ball tool to indent the centre of each petal.
Fill a piping bag fitted with a coupler with royal icing and attach a no. 1 piping tube. Pipe a row of dots at the base of each tier to help define the tiers
Attach a no 2 tube to the piping bag and pipe loose coils as shown in the picture.
Attach a no.3 tube and carefully pipe the centre of each flower. Using the same tube pipe a small dot in the space between the petals.
To add shine, dust over the cookie with edible snowflake lustre dust
For the decorating:1. Emboss the tiers with the flower cutter and use the end of a ball tool to indent the centre of each petal.2. Fill a piping bag fitted with a coupler with royal icing and attach a no. 1 piping tube. Pipe a row of dots at the base of each tier to help define the tiers3. Attach a no 2 tube to the piping bag and pipe loose coils as shown in the picture. 4. Attach a no.3 tube and carefully pipe the centre of each flower. Using the same tube pipe a small dot in the space between the petals.5. To add shine, dust over the cookie with edible snowflake lustre dust Top tip: For a sparkling finish, add the lustre dust before the sugarpaste dries. This recipe is taken from Bake Me I'm Yours Cookie by Lindy Smith, available from Amazon, RRP £9.99www.lindyscakes.co.uk
Your rating