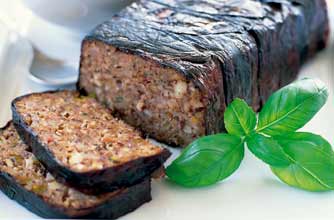 6. Lazy or labour of love - should you make your own gravy?
Yes definitely! Make stock from the giblets the day before - any leftover gravy can be added to <a href="/food/279459/Christmas-recipe-generator--Boxing-Day
">Boxing Day soup.
7. We get the mains and desserts, but what's a good Christmas starter?
Stilton and leek tartlets
(pictured) or simple antipasto of smoked fish.
8. Veggie guests - what's a good festive dish?
Aubergine five nut roast
from the new book.
9. Are sprouts the devil's work? What veg will you be eating?
Sprouts are a must for Christmas but must not be overcooked - my mother prepares them with a cross in the base. I also make celeriac puree which is great. Make a day ahead and reheat.
10. Half-an-hour to make nibbles for a party. Go!
Make a couple of dips in the processor - mayo, yoghurt, red pepper, lemon juice and herbs.
Mary Berry's Christmas Collection is available from Amazon, RRP £16.99.

Find out what the chefs will be cooking for Christmas in our festive Q&A

Where to next?
More Mary Berry recipes
Your guide to Christmas baking
Christmas recipe guide
More Christmas recipes
Christmas food countdown

Stay within budget this year with our Christmas budget calculator

Send in your Christmas recipes and you could win celeb cookbooks.

For instant defrosting and cooking times, try our turkey timer