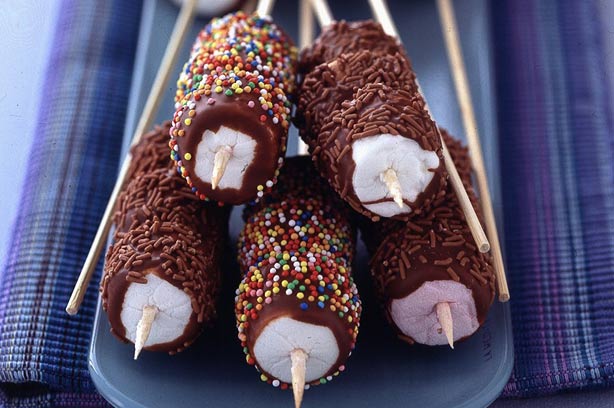 If the kids are at home with nothing to do, get them in the kitchen and help them make some sweet treats.
Remember how much fun it was to make
peppermint creams
,
honeycomb
or
chocolate crispies
when you were a child? Then it's time to get your own kids into the kitchen! It'll keep them busy, they'll be proud of what they've made and they get to eat the finished result. Or you could get them to wrap some up as a lovely food gift for a relative.
Marshmallow swizzle sticks
, pictured Just four ingredients!
Chocolate snowman truffles
Chocolate cereal animals
Let them use their imagination
Rocky road bars
Chocolate pat a cakes
The kids won't stop laughing making these!
Moo-sli bars
Fruit and nut stack
Peppermint creams
Makes 40, so great for gifts!
Chocolate chip cookies
Millionaire's shortbread
Honeycomb
Marshmallow cereal shapes
Just 20 minutes to make
Chocolate truffle snowballs
Where to next?
More recipes for kids
Try making fairy cakes
Bake some chocolate brownies