Pure celebration cocktail
Print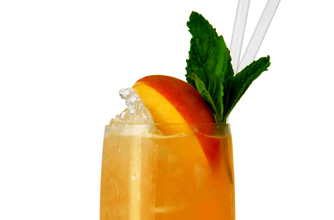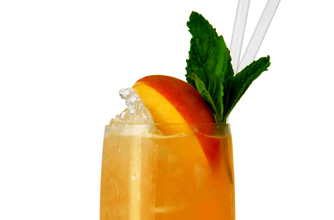 This fruity cocktail with peach puree, white wine, lemon and mint is a great drink to celebrate spring with. Sip and enjoy!
Ingredients
50ml classic vodka
20ml peach puree (available at most supermarkets)
20ml sugar syrup
70ml Pinot Grigio wine
3 wedges of lemon
6 mint leaves
Mint sprig and peach slice, for garnish
Cocktails taste best in chilled glasses - store in the fridge or freezer for an hour or add ice and stir until the glass is chilled - and drain excess water out of the glass
Method
Chop fruit (mint, peach and lemon) and mix together with crushed ice using a muddler or other mixing tool.
Add the other ingredients to the shaker and strain in to a 12oz cocktail glass.
Garnish with a large wedge of peach and two mint leaves.
Your rating