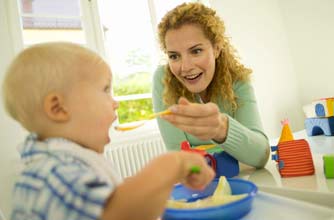 Question 3
I have a two-year-old who eats generally well (including fruit and vegetables), but doesn't like the texture of meat. She will eat a bit of well-chopped chicken in a chicken korma and mince mixed with vegetables in shepherd's pie, but will pick out meat whenever possible. What can you suggest to get her used to eating meat?
Luci, West SussexAnnabel says:
When my children were young and I made them a Bolognese sauce or meat filling for a dish like cottage pie, I would saute the onion and garlic, add the lean minced beef and when browned I would chop it for a few seconds in a food processor so that it had a softer texture. I would then transfer the meat back to the pan and add the other ingredients like tinned chopped tomatoes, stock, tomato puree and herbs.
I also found that flavours from around the world appealed to children like
mild curry
, satay chicken, beef teriyaki and marinating meat or chicken would give it a softer texture. I have a lot of easy recipes for dishes like these in my books as they make great food for the whole family. It gets away from stereotyped children's food like chicken nuggets and chips and opens up a whole new range of foods.
Question 4
I started weaning my son a couple of months ago and he's now 8 months old. The weaning is going OK, so long as I use pre-prepared foods (jars etc). Whenever I try to give him something that I have cooked he refuses to eat it. This is frustrating for me, as I want to give him home-cooked food, but keep going back to the jars - as I would rather he eat something than nothing. Any tips on how to get him eating home-cooked food?
Elizabeth Dunton, LancashireAnnabel says:
Jars of baby food have a shelf life of 18 months and in order for them to last so long, the food has to be heated to a high degree so that it is sterilized and this means that a lot of the nutrients are destroyed. There is no doubt that nothing is better for your baby than freshly prepared food.
I suggest you experiment by trying different recipes until you find something he likes. I have written a book called
100 Top Baby Purees
and the recipes in the book have been tested on babies to find out their favourites - some tasty combinations that might tempt your 8-month-old son are vegetable puree with tomatoes and cheese, chicken with sweet potato and apple, lovely lentils or baby muesli with apple, pear and raisins. It would be hard to believe that any baby could prefer the taste of jars to fresh food so it may be that your son likes the smooth texture of processed baby food, so you may initially need to ensure that your purees are smooth and then once he accepts your home made puree, you can stir in some tiny pasta shapes to introduce some texture.
If time is an issue for you, there are lots of instant fresh foods that you can make for your baby like mashed avocado and banana or pureed peaches or pear with porridge or yoghurt.
And remember, it's a good idea to prepare baby food in bulk and freeze extra portions in small pots in the freezer so that you don't need to cook every day.
Question 5
My son is just over 9 months old and I'd like to start feeding him smaller portions of what we eat but I'm aware of the high amounts of salt in the stock/sauces we use. What recipes can we use that will suit all the family?
Stacey, East YorkshireAnnabel says:
I would suggest that you do cook meals for the whole family but leave out the seasoning and use very low salt stock cubes and dilute them well. You can remove your baby's portion before seasoning yours. You can cook meals like
cottage pie
,
chicken casserole
,
fish pie
and
macaroni cheese
and mash up a portion for your baby.
Many of my baby purees, for example my leek and potato puree or lovely lentils, would also make a delicious puree for your baby if you add some extra stock and seasoning.
Where to next?
-
Get more help with fussy eaters
Try some of Annabel's recipes:
-
Singapore noodles
-
Moneybag wontons
-
Fruity chicken curry
-
Sesame beef stir fry
-
Thai chicken soup
-
Arancini rice balls with tomato sauce
-
Veggie bites
-
Rice Krispie chicken nuggets