Phil Vickery's pot-roast chicken
Print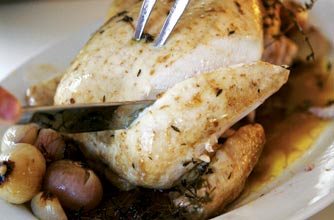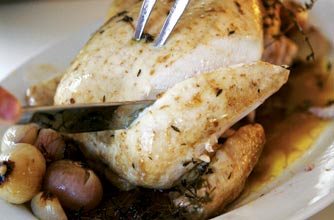 Serves: 4-6

Prep time:

Cooking time:
Phil Vickery's pot-roast chicken is a delicious chicken dish that the whole family will love. Serve this tender pot-roast chicken dish with creamy mash and sweet baby onions braised in vinegar to really make it a meal to remember! And, to top it all off, this dinner dish by TV chef Phil Vickery is completely gluten-free too!
Ingredients
1 x 1.25kg fresh chicken
1 large lemon, halved
600g baby onions or shallots, peeled but with the root left on
1 small bunch fresh thyme
125ml dry white wine
1 x 10g glutenfree chicken stock cube
3tbsp balsamic vinegar
2tsp caster sugar
100g unsalted butter, cubed
2tbsp cornflour
4tbsp water
Salt and freshly ground black pepper
Mashed potato, to serve
Phil says: 'Pot roasting means part roasting and part braising - the meat is slowly cooked in a covered dish. I like to roast chicken with a little wine and plenty of big flavours such as lemon and thyme.'
Method
Preheat the oven to 180°C (350°F, gas mark 4). Put the lemon halves inside the chicken. Place the chicken in a large flameproof casserole dish.
Place the onions around the bird, along with the thyme, wine, crumbled stock cube, vinegar, sugar, butter and seasoning.
Place the dish over a low heat and bring to a simmer. Once the liquid starts to bubble place the lid on top and pop into the oven for 1 hr.
Once cooked, remove the chicken and thyme stalks from the pan.
Gently cook down the onions and stock for 10 mins on the hob or until it forms a gravy-like consistency.
Mix the cornflour and water together in a cup to form a smooth paste. Stir the paste into the simmering mixture, stirring all the time and the juices will thicken nicely.
Serve the chicken whole or jointed on a large plate with the onion stew alongside.
This recipe is taken from Seriously Good! Gluten-free Cooking by Phil Vickery (Kyle Cathie, £19.99) with photography by Steve Lee, available from Amazonwww.vickery.tv
Your rating