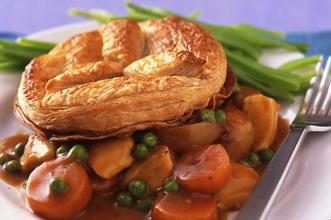 To defrost frozen puff pastry, let it stand at room temperature for six hours - or pop it in the fridge overnight.
Once you know the easy way to make a chicken pie, you'll wonder why you ever did it any other way. Perfect for lazy Sundays.Serves:
4
Prep and cooking time:
approx 55 mins
1tbsp sunflower oil
225g (8oz) shallots, halved
1 carrot, peeled and sliced
4 x 150g (5oz) skinless chicken fillets, cut into chunks
500g pot fresh chicken gravy
500g packet puff pastry
Beaten egg, to glaze
50g (2oz) frozen peas
Green beans, to serve
1. Heat oil in a large pan. Add shallots and carrot, and fry for 4-5 mins. Remove with a slotted spoon and set aside. Fry the chicken for 4-5 mins until browned, then stir in the gravy, shallots and carrots. Season with salt and freshly ground black pepper. Cover and simmer for 20 mins until chicken is cooked through.
2. Meanwhile, preheat the oven to 220°C (425°F, gas mark 7). Roll out the pastry and cut out four 13cm (5in) diameter rounds. Cut leaves from the trimmings and stick on the lids with a little beaten egg.
3. Place the lids on a baking sheet and brush with beaten egg. Bake for 15-20 mins until risen and golden. Add the peas to the casserole and simmer for 2-3 mins until tender. Spoon casserole on to four warmed plates and top with pastry lids. Serve with green beans.