Hairy Bikers' pickled pears
Print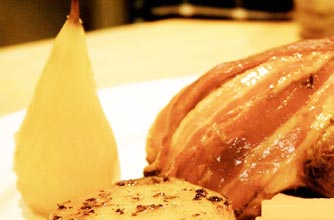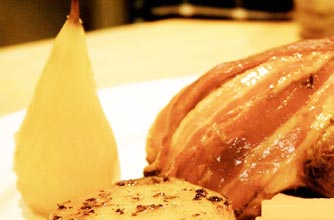 Makes: 2 x 1½ lt jars

Prep time:

Cooking time:

Total time:

Skill level: Bit of effort

Costs: Mid-price
"Perfect with roast partridge, or indeed a slice of Gammon or a bit of cheese. A proper Christmas pickle inspired by a meeting in a car park with the Godfather himself Antonio Carluccio."
Ingredients
20 conference pears
1lt white wine vinegar
½lt water
500g caster sugar
3 star anise
1 large stick cinnamon, broken into three
1tbsp allspice berries
Zest of a lemon cut into curls with a potato peeler.
½tsp cloves
1dsp juniper berries
3 sprigs rosemary
You'll also need:
Once opened eat within two weeks.
Method
Peel the pears carefully leaving the stalk intact.
In a large cast-iron or ceramic saucepan, place the water, vinegar, sugar, star anise, allspice berries, lemon zest, cloves and juniper berries. Bring to the boil, and add the pears then cover and simmer gently for about 10 - 15 mins until the pears are poached. Remove the pears and set aside.
Boil the poaching liquor for about 5 mins to intensify the flavours.
Meanwhile sterilise the jars. Either boil them in a pan or place them in the oven to kill any bugs. Remember to remove the rubber rings first.
Pack six or seven pears into each jar, divide the liquor and pour into each jar. Make sure each jar has an even distribution of spices.
Place a sprig of Rosemary into each jar.
Seal tightly and store. They will be good to eat after a week and can be stored for up two months.
This recipe is taken from the Hairy Bikers' 12 days of Christmas special, BBC2 at 9pm, on Wednesday 16th December 2009.
This recipe is part of The Hairy Bikers'
roast partridge with festive stuffing
,
fondant potatoes
and
pickled pears
recipe.
Your rating