Hairy Bikers' Rumpy Pumpy soup
Print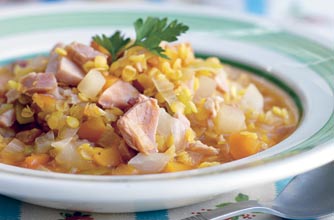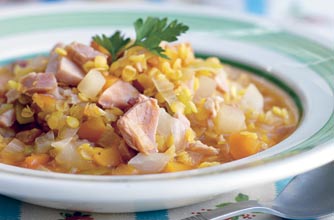 Serves: 6

Skill level: Easy peasy

Costs: Cheap as chips
From episode one of their 'Mums Know Best' series, this hearty soup won't disappoint
Ingredients
About 2 litres ham stock
450g carrots, peeled and chopped
225g turnip or swede peeled and chopped
340g onions, finely chopped
Any other 'secret' veggies, such as sprouts,
Leeks, finely chopped cabbage, even a can of chopped tomatoes
225g red lentils
Salt and pepper
Method
Best to make the stock the night before with a ham bone or hock so the flavour can develop.
Cook the vegetables in the ham stock until soft, then add the lentils. Stir frequently at this stage, as lentils can burn quite easily.

If you have made the stock with a ham hock, remove any meat, chop it and add to the soup. Season to taste.
Maureen sometimes adds chunks of potato to cook in the soup to make it more filling, or stirs in 1–2 teaspoons of ground cumin to give it a curry flavour.
This recipe is taken from Mums Know Best: The Hairy Bikers' Family Cookbook, £20 from Weidenfeld & Nicolson. The book is also available from
Amazon.co.uk
. The Hairy Bikers: Mums Know Best is on BBC2 at 8pm everyday Tuesday, from 5th January 2010 for six weeks.
Your rating