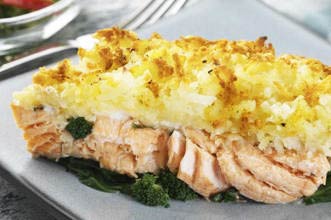 Economy Gastronomy's Paul Merrett says: Always write a shopping list. Your list should be built around a meal plan for the coming week so you buy exactly what you need and nothing more.
For week one, make a big batch of mince on Sunday which will triple up for Monday and Tuesday's dinners.

First, read through and print your week one shopping list.

Here are your recipes for the week...

Sunday
Lunch: Lower-fat beef lasagne
Dinner: Pea and roasted garlic soup
Dessert: Light banoffee pie
Monday dinner: Coriander and avocado chilli con carne
Tuesday dinner James Martin's cottage pie
Wednesday dinner: Sophie Conran's squash and goat's cheese stew
Thursday dinner: Salmon rosti bake (pictured)
Friday dinner: Ham and sweetcorn pie
Saturday
Lunch: Mushroom frittata
Dinner: Tandoori salmon kebabs

More tips from celebrity chef Paul Merrett:
Do your weekly shop later in the day, as the reject shelf is much fuller - tomorrow's use-by date can be today's dinner!
Cook seasonally. Produce is always cheaper when in abundance. As an example, check out local markets for ripe tomatoes in July and you'll find them at their best and cheapest.


Print your week one shopping list