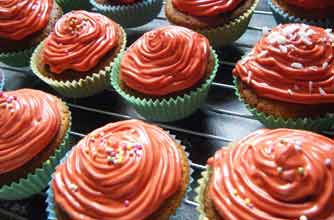 Cake corner is where you can ooh and aah over other users' lovely cakes, cupcakes and fairy cakes plus show off your own baking skills too.
These amazing frosted cupcakes were sent in by our lovely user, Lyndsey Mcaulay who got lots of admiring comments on our Facebook page.
If you think your cake or bake has the X-Factor or even if you've baked one just for fun, we'd love to see it, so snap it and send it in with the recipe.
Plus your cake recipe or bake could get its very own spot in our goodtoknow
Recipes magazine. We'll even pay you £25 if it appears!
So have some fun in the kitchen and send us your recipes. You can also visit us on Facebook too.