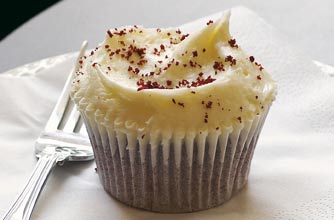 Courgettes are in season so we've added brand new courgette recipes, plus more desserts and cakes including these red velvet cupcakes. We've also got summer recipes from the Woman's Weekly kitchen.Cupcake recipe
Red velvet cupcakes
Hummingbird Bakery!(Pictured)
Courgette recipes
Courgette fritters
Kids will love these!
Courgette and chicken pasta salad
Light and tasty
Hot and spicy courgette prawns
Quick Madras curry
Cannellini bean and courgette pasta
Quick family meal
Chicken recipes
Butterflied chicken fillets
BBQ recipe
Chicken salad with mango
Summer twist
Chicken with peppers and cashews
Done in 20 minutes
Party food recipes
Blueberry marshmallow rocky road
Make in 12 minutes
Vegetable and cheese croquettes
Veg-packed
Ham and cheese pinwheels
Easy canapes
Dessert recipes
Berries and cream pavlova
Use up blueberries
Lemon meringue roulade
Impressive
Raspberry delight
15-minute pud
Cream and passion fruit delight
No cooking involved
Quick mango fool
Only 5 minutes!
Video recipes
Lemon posset
Classic dessert
Rose petal and raspberry mess
Dinner party pud
Woman's Weekly recipes
Summer pudding
Moist and delicious
Lemon meringue fluff
Easy pud
Poached pineapple with lime syrup
Eat more fruit
Rhubarb bakewell
Sweet pastry recipe
Here's what you loved from last week's new recipes
:
Strawberries and cream sandwich
.
Send us your recipes with a picture
using our quick and easy
form
and you could win a cook book!
There are more unmissable recipes in our brand new magazine goodtoknow Recipes, on sale now and only £2.20.
Subscribe today
and get your copy for £1.96 per issue!