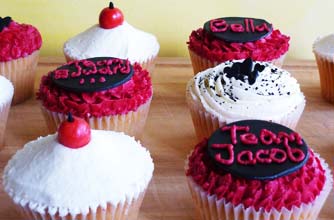 If you like Twilight you'll love our recipes like Twilight cupcakes, which we've added to celebrate the new movie, Eclipse. We've also got lunch recipes from celeb chef Gizzi Erskine and more from the Woman's Weekly kitchen.Twilight recipe
Twilight cupcakes
(Pictured)
Chocolate raspberry cupcakes
Oozes with red jam!
Triple chocolate cupcakes
Decorate how you like
Twilight love bite cocktail
Fun party drink
Potato recipe
Potato and veg bake
Mediterranean twist!
Gizzi Erskine recipes
Smoked salmon, avocado and brie on rye
New sarnie idea
Roast beef and potato salad
Use up leftover spuds
Pancetta and bean soup
Energy boosting!
Tuna salad
Use fresh tuna steaks
Courgette and goat's cheese tart
Impressive
Woman's Weekly recipes
Jammy buttons
Tasty biscuits
Cool green summer soup
Serve chilled
Real lemonade
Make with the kids
Summer risotto squares
Great picnic idea
Three-fruit salad
Healthy dessert
Home-made sausage rolls
Party snack
Here's what you loved from last week's new recipes
:
Red velvet cupcakes
.
Send us your recipes with a picture
using our quick and easy
form
and you could win a cook book!
There are more unmissable recipes in our brand new magazine goodtoknow Recipes, on sale now and only £2.20.
Subscribe today
and get your copy for £1.96 per issue!