Victoria Threader's apple cookies
Print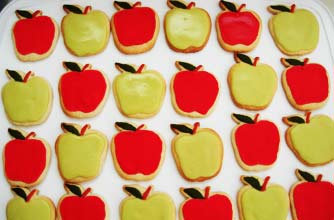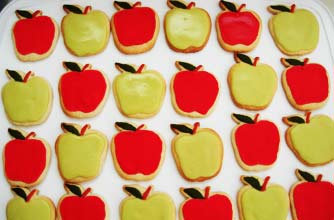 Makes: 1 batch

Prep time:

(including decorating time)

Cooking time:

Total time:

Skill level: Bit of effort

Costs: Mid-price
We love Victoria's apple-shaped cookies, which she made for the teachers on the last day of term. These cookies are a really original classroom gift idea to try out and bake with the kids
Ingredients
For the
apple
cookies:

10oz of plain flour
¼tsp of salt
½tsp of baking powder
4oz of unsalted butter
5oz granulated sugar
1 egg beaten
2tbsp of milk
½tsp of vanilla extract
For the icing:
5oz of royal icing sugar
Red and green food colouring
½tsp almond extract

Apple-shaped cutter
Cocktail sticks
Small paint brush

Method
For the cookies: Preheat the oven to 180ºC and line the baking sheets with greaseproof paper.
Cream the butter and sugar until light and fluffy then add the milk, vanilla and egg and mix until smooth.
Sieve the flour, salt and baking powder into the mixture.
Mix well into a dough.Transfer to the work surface and shape into 2 discs and refrigerate for 1hr. Cooling helps the dough keep a neater shape.
On a lightly-floured surface, roll out the dough to 1/8 inch in thickness. Then, using the apple cutter cut the shapes and transfer on to the baking sheets.
Bake for about 10mins until light golden but don't allow to brown. Cool on wire racks.
For the icing: Mix the icing sugar with a little water and ½tsp of almond extract. Mix until smooth and shiny and divide into 2 separate bowls.
Colour one bowl of icing red and one green.
Take a ½tsp of the red icing and ½ tsp of the green icing and mix to make brown icing for the stems.

Use 2tsp of the green food colouring to make a darker green shade of icing for the leaves.
Ice the biscuits using a small paint brush and cocktail stick. The stick is great for moving the icing into the desired shape. Then leave to set. They should set hard so you can wrap or pack them.

Your rating