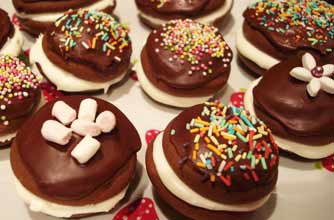 You've been sending in your lovely recipes and we've put some of the best ones up in our Cake Corner this week including Victoria's chocolate whoopie pies and apple cookies. We've also got simple recipe ideas and more from the Woman's Weekly kitchen.

Your recipes
Victoria Threader's apple cookies End-of-term gift idea
Victoria's vanilla whoopie pies Look impressive
Victoria's chocolate whoopie pies For chocolate lovers (Pictured)
Carol Foster's iced rainbow bars Simple party treats


Kids' recipes
Giant cookies
Make with the kids
Pizza mozzarella wrap
Healthier lunch idea
Simple recipes
Cheddar tortilla lasagne
Clever, quick and easy
Chicken bacon and spinach salad
Done in 15 minutes
Minted courgette soup
Easy summer starter
Courgette and tomato gratin
Delicious summer bake
Sweet treats
Carrot cake
Moist and lightly spiced
Chocolate banoffee pie
Quick and mouth-watering
Woman's Weekly recipes
Salmon ceviche with strawberries
Citrus-marinated seafood
Rosé wine and red berry jellies
fat free
Raspberry and hazelnut meringue torte
Impress your friends
Berry and crab salad
New dinner party idea
Fresh berry tarts
Use up your summer berries
Here's what you loved from last week's new recipes
:
Twilight cupcakes
.
Send us your recipes with a picture
using our quick and easy
form
and you could win a cook book!
There are more unmissable recipes in our brand new magazine goodtoknow Recipes, on sale now and only £2.20.
Subscribe today
and get your copy for £1.96 per issue!