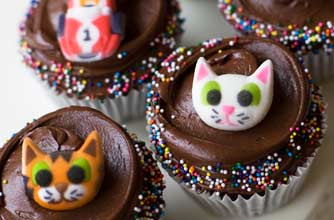 This week we've got brand new baking recipes like these amazing chocolate cupcakes, plus kids' meal ideas from Annabel Karmel. You'll also love our pretty cupcake recipes from the Woman's Weekly kitchen.

Baking recipes
Chocolate cupcakes Moist and delicious (pictured)
Carrot cupcakes With cream cheese frosting
Cinnamon oat and sultana cookies Chunky tea treats


Annabel Karmel recipes
Haddock and spinach pasta bake
Toddlers' recipe
Salmon and broccoli pasta shells
Babies' recipe
Spaghetti Bolognese
Family meal
Spaghetti with pesto
Ready in 16 minutes
Woman's Weekly recipes
Basic buttercream
Meringue frosting
Butterfly buns
Made using the basic cupcakes
Chocolate swirl cupcakes
Impressive!
Sunflowers cupcakes
Food gift idea
Cupcake with Flake "99"
Ice cream cupcake
Here's what you loved from last week's new recipes
:
Victoria's chocolate whoopie pies
.
Send us your recipes with a picture
using our quick and easy
form
and you could win a cook book!
There are more unmissable recipes in our brand new magazine goodtoknow Recipes, on sale now and only £2.20.
Subscribe today
and get your copy for £1.96 per issue!