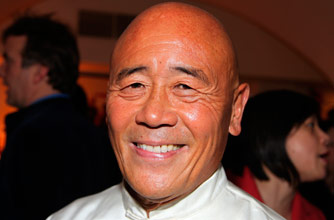 We were lucky enough to meet the lovely Ken Hom, Chinese cookery king and OBE don't you know! We put to him all your questions about Chinese cooking including how to keep it healthy...

What's the longest time you've kept a wok for before replacing it?
Well, if you have a Ken Hom wok, you'll never have to replace it! A good wok should really last you a lifetime.
How can you make sure your food doesn't stick?
You've got to make sure the wok is really hot before you add the oil in. If you do that, the oil will coat the sides of the wok nicely and prevent the food from sticking.
What are the key store-cupboard essentials for Chinese cooking?
Soy sauce, oyster sauce, sesame oil, vegetable oil - with those you can make pretty much anything!
What was the first meal you learnt how to cook?
It was that very egg-fried rice actually. I was in my uncle's Chinese restaurant. We got an order in and he just said 'you cook it', so I did!
What's your favourite healthy Chinese dish?
It's got to be stir-fry vegetables. They're sickeningly healthy.
What is your favorite meal, both Chinese and non-Chinese?
My favourite non-Chinese food has got to be fish and chips. But the chips have got to be really crispy - I hate soggy chips! My favourite Chinese dish is Peking duck - in fact, I'm going to have that tonight now I've been talking about it.
What's your favourite ingredient to cook with?
Garlic and chilli - I couldn't live without those two.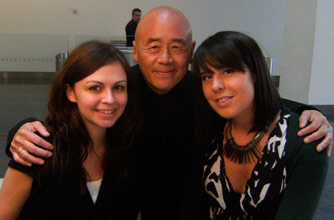 Goodtoknow Recipes' Charlotte and Sarah meet Ken Hom at our London offices.
The Ken Hom meal range includes over 25 delicious dishes and can be found in the chilled food aisle at Tesco, retailing from £1.
Where to next?
- Ken Hom's chicken with garlic vinegar sauce