Anjum Anand's tikka masala
Print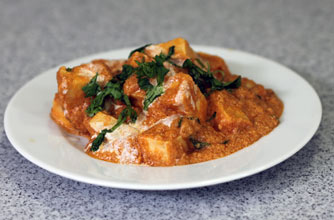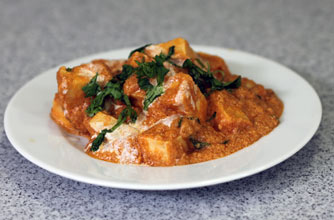 Serves: 4

Prep time:

Cooking time:

Total time:

Skill level: Easy peasy

Costs: Mid-price
Tikka Masala is a famous Indian dish usually served with chicken, but for a twist on this classic dish it can be adapted for vegetarians by using cheese.
Ingredients
1 packet Paneer cheese, eg. Clawson, boiled for 20 minutes and cut into 2cm cubes
5tbsp vegetable oil
6 green cardamom pods
1" cinnamon shard
1 medium onion, made into a paste
3 garlic cloves, peeled and made into a paste (Anjum uses a fine microplane grater)
1¼"ginger, peeled, made into a paste (Anjum uses a fine microplane grater)
3 medium-large tomatoes, pureed
1tsp coriander powder
1tsp cumin powder
1¼ tsp garam masala
Salt to taste
¼-1/2tsp red chilli powder or to taste
6tbsp double cream
3 good tbsp butter
15 cashew nuts blended with some water
Garnish your tikka masala with a swirl of cream and a little fresh coriander.
Method
Blend the onion until smooth.
Boil paneer in plenty of water on a low flame for 20 minutes.
Heat the oil and 1 tbsp of the butter until hot, add the cardamom and cinnamon stick and follow, 10 seconds later with the onions. Cook on a moderate flame until the excess water has dried off and the onions have turned golden.
Add the ginger and garlic pastes and sauté, over a gentle flame, for 1 minute. Add the tomatoes, powdered spices and salt. Cook, over a moderate flame, for 20-25 minutes or until well reduced and you can see oil coming out of the sauce. Turn the heat up and fry this paste for a further 3-4 minutes. Add the paneer, butter and cream and 400ml water. Bring to a boil and simmer for another 5-7 minutes. You may want to add a little more water, depending on how thick you like your sauce. Taste and adjust seasoning and serve.

Your rating