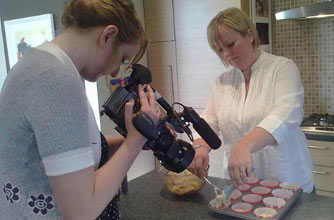 Victoria Threader is a goodtoknow user and a regular contributor to our Cake Corner. We loved her cupcake pictures so much that we asked her to star in our Christmas issue of the magazine and in special videos on the site - which will be released on 4th November.


Victoria Threader is one of goodtoknow's most talented fans! She regularly shares with us the most amazing cupcake creations, so we decided that we just had to find out a bit more about her - and see what special festive cupcakes she could cook up for us at the same time!


We also filmed Victoria creating her cupcakes (pictured) so she can show goodtoknow users just how she does it! The first video will be on goodtoknow from 4th November.
Victoria, 39, from Netley Abbey, Hampshire, tells us that she used to be a jet-setting flight attendant, but after she and partner Mark had Millie, now 4, she's been a stay-at-home mum - and superstar baker!


Her brilliant baking career started out when she wanted to cook Millie's birthday cake, just like her mum used to make ones for Victoria's birthday when she was young.


After trying out goodtoknow Recipes' vanilla fairy cake recipe, Victoria made some fab ladybird cupcakes, which were featured in Cake Corner. She was bitten by the baking bug and has been creating cakes ever since - though she prefers to treat herself with something more savoury.


Victoria is most proud of her anemone cakes and flower bouquets, and she says her ultimate cake treat is Nigella's chocolate fudge cake.
We reckon Victoria's as talented as any telly chef!


Where to next

Your top 10 baking tips