Heston Blumenthal's spiced popping candy chocolate tart
Print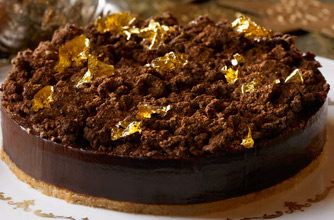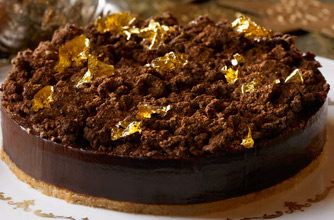 Serves: 8

Total time:

Skill level: Bit of effort

Costs: Mid-price
Give your standard chocolate tart a little extra pop with this inventive topping from Heston Blumenthal. The gold toppings are a great Christmas addition
Ingredients
Ready-made chocolate tart
For the spiced chocolate popping candy:
1 tbsp ground cinnamon
Pinch of ground nutmeg
¼ tsp ground ginger
100g dark chocolate (minimum 60% cocoa solids), broken into small pieces
25ml grapeseed oil
50g popping candy
To decorate the tart:
2 tbsp cocoa powder
½ tsp Rainbow Dust Gold Lustre and 1 sheet edible gold leaf (available at Waitrose)

Heston says: 'Be sure to store your popping candy in an airtight container so it doesn't absorb any moisture and start popping too early. Any leftover base can be drizzled with sieved melted chocolate from the decoration to make indulgent but perhaps irregular-shaped biscuits!'
Method
Measure out the ground spices into a bowl and mix them all together thoroughly. Put the chocolate and oil in a bowl and place the bowl over a saucepan of simmering water. Using a spatula, mix the chocolate until it has fully melted and is well combined with the oil. Take the chocolate off the heat and allow to cool to room temperature.
Once cool, add the popping candy and mix well. Pour the mixture through a sieve in order to remove the excess chocolate and then spoon the popping candy on to a parchment-lined tray and spread with a spoon. Transfer to the freezer for 10 minutes to set.
Break the set popping candy into small pieces and add the spice mix. Toss them together in the bowl. Keep in an airtight container until needed.
To decorate the tart:
Sprinkle the spiced popping candy generously over the surface of the tart.
Place the cocoa powder and gold lustre in a sieve and dust over the tart. Add the gold leaf for a really glitzy finish.
Your rating