Alma Obregón's creme caramel cupcakes
Print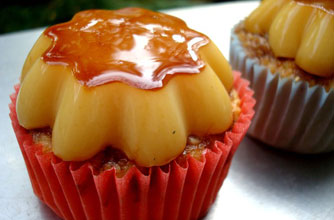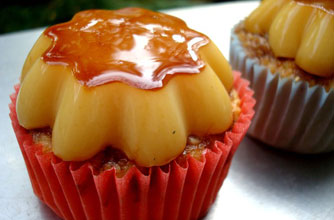 Makes: 6

Prep time:

plus setting time

Cooking time:

Total time:

Skill level: Bit of effort

Costs: Cheap as chips
goodtoknow user Alma Obregón came up with this inventive cupcake recipe. She says: 'I used mini creme caramel moulds. I think they're used for another dessert, but as soon as I saw them I couldn't resist trying!'
Ingredients
Creme caramel:
2 glasses of milk (around 450ml)

3 eggs

4 tbsp sugar

1 cinnamon stick

caramel syrup
mini creme caramel moulds

Cupcakes:
150g butter

150g flour

3/4 tsp Baking powder

150g Sugar

2 tsp vanilla extract

1 tsp cinnamon powder

3 eggs
Alma says: 'I leave the creme caramels overnight, just to be safe!!!'
Method
Mini creme caramels:
Put the milk, sugar and cinnamon stick in a saucepan and bring it to boil. As soon as it starts to boil, take it off the heat and leave it to infuse until it's cool. Beat the eggs and add them to the mixture.
In the meantime, pour the caramel syrup into the mini moulds (just the amount needed to cover them with a thin layer of caramel).
Then, add the mixture on top using a strainer. Leave them to cool as long as they need to set.

Cupcakes:
Heat oven to 180C. Beat butter with sugar until fluffy. Add the eggs, one at a time, beating well after each addition. Beat in the vanilla extract and cinnamon powder. Add the flour and baking powder.

Divide the mixture between cases and bake for around 20 mins. Leave to cool. Put a mini flan on top of each cupcake.
Your rating